The headquarters of SICREDI is even more secure with Digicon access controls of last generation.
Sicredi, recognized as one of the largest financial institutions in Brazil and leader in the credit cooperative system, already used access control equipment from DIGICON for more than 12 years in its building located in Porto Alegre/RS.
Now, it decided to make a technological upgrade in its pedestrian access control system and DIGICON was once again chosen for offering innovative equipment with a differentiated design.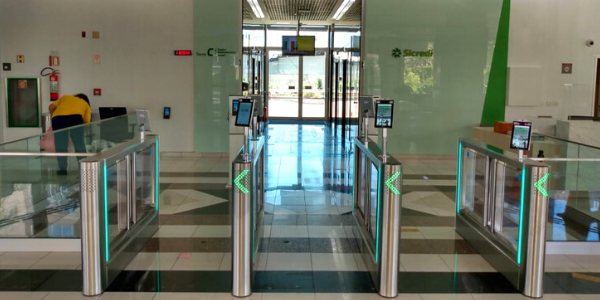 The models chosen by Sicredi for this system update were dFlow and dTower, fully accessible, non-contact flow control equipment, with 900mm gates that integrated to the architectural lines of the building.
Digicon products were chosen because they go beyond the needs of people flow management, delivering new user experience, providing greater comfort, safety, accessibility and agility of the entrance flow of the environments.
The deployment of the new access control system took place in early January 2021, in perfect synchrony with the needs presented by Sicredi.
Sicredi's project confirms the new trends for contactless access control systems that, in addition to controlling the flow of people, need to provide a pleasant experience that ease inclusiveness.
And it proves how Digicon continues to be an important partner of this customer, giving us pride in being able to bring ever more innovative solutions for the future of the access control market.