Digicon takes payment by credit and debit card to public transport in São Paulo.
In partnership with SPTrans and São Paulo City Hall, Digicon presented another solution to transform the lives of São Paulo residents who use public transport andtourists who visit the city.
The payment by credit and debit card by proximity avoids queues in the turnstiles and is much safer, because the customer does not need to walk with cash in hand.
Digicon's Validator – DG Smart accepts proximity payments and now passengers can also use credit and debit cards, as well as prepaid cards or mobile devices with proximity payment technology such as mobile phones and watches, avoiding the problem of change need.
Validator – DG Smart is another Digicon solution created specially to make your life easier in the day by day and improving urban mobility.
Created as a pilot project in September 2019, on several bus lines in the state capital, the test was approved by bus companies and also by those who matter most: passengers.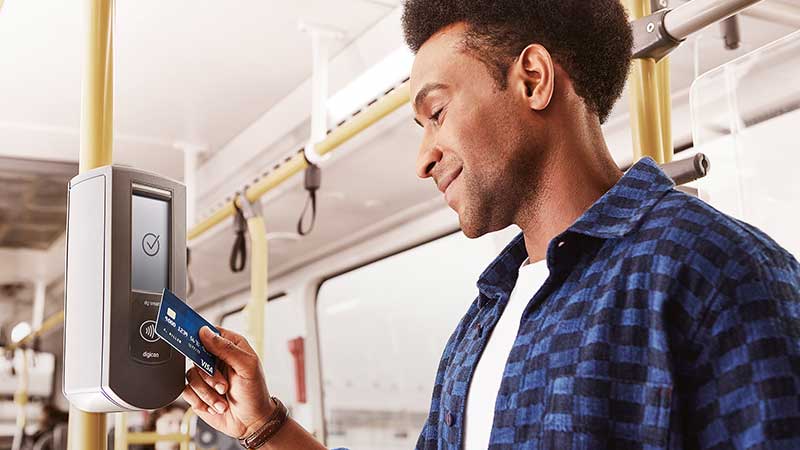 Visa article published in September 12:
https://www.visa.com.br/sobre-a-visa/noticias-visa/nova-sala-de-imprensa/pagamento-por-aproximacao-chega-ao-transporte-de-sao-paulo.html
Taken from the Exame Magazine in Sep 12 th 2019
Twelve bus lines from the city of São Paulo will accept the payment of the ticket by credit card, debit or prepaid from Monday, 16. The new service will be valid only for physical or digital cards with NFC (contactless) technology, which works by proximity and without the use of a password. The announcement was made on Thursday, 12, by management Bruno Covas (PSDB) at a press conference at City Hall.